S1E25 - Body-Love or Physique Goals. Do You Have to Choose?
1 year ago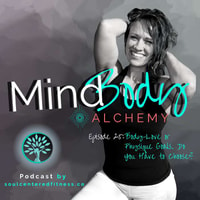 Episode Notes
Find out your diet personality type. Take the quiz!
This episode answers the question that nearly every body-love seeking person has. Does body acceptance mean I can't have a physique based or weight loss goal? Hint: There's nothing wrong with wanting a smaller body if that is what feels like a more accurate representation of you living at your best. Keeping the extra weight means keeping the habits that caused it. Ignoring your needs, avoiding self care, emotionally eating, numbing out, and shutting down the path to a joy-filled life. In this episode you'll learn how to - tell the difference between body goals that serve you, versus goals that set you back. ask the right questions, to keep your goals aligned with your values. stay focused on what REALLY matters. navigate the guilt and duality that comes from holding both of these ideas at the same time. If you are struggling with feelings of guilt, because you still want a body transformation to go with your body acceptance journey, tune in.
Don't forget to subscribe, rate, and review the podcast. It helps more than you know!
If you found this episode helpful, share it on Instagram and tag me @soulcenteredfitness.co so I can come and give you some love for sharing. Learn how we can work together 1:1 Learn more about Unstuffed and join the waitlist! Follow Soul Centered Fitness on Instagram This podcast is brought to you by Soul Centered Fitness Never miss an episode: Join my mailing list for weekly coaching, and more. Email your questions and comments to [email protected]
Support MindBody Alchemy by contributing to their tip jar: https://tips.pinecast.com/jar/mindbody-alchemy
Find out more at https://mindbody-alchemy.pinecast.co