S1E36 - Going Out After Post-Covid Weight Gain
1 year ago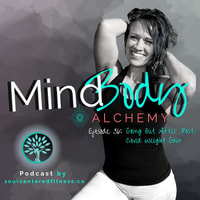 Episode Notes
Find out your diet personality type. Take the quiz!
Post-Covid weight gain have you hiding under the bed when the invite for the happy hour comes through? Should you feel shame and get your act together or should you accept what is, and slam the door on your social life? How about neither. In this episode, I'm showing you why this may have happened, why your weight isn't a problem, and clearing up the confusion that comes from the two social media camps that are pulling you in different directions. Spoiler alert, you deserve to experience joy, take up space, and decide for yourself if you want to lose the weight you've gained. Oh, and you aren't alone! No matter where you stand on the issues surrounding this pandemic, a huge dose of collective compassion is past due. Let's get to work.
Don't forget to subscribe, rate, and review the podcast. It helps more than you know!
If you found this episode helpful, share it on Instagram and tag me @soulcenteredfitness.co so I can come and give you some love for sharing. Learn how we can work together 1:1 Learn more about Unstuffed and join the waitlist! Follow Soul Centered Fitness on Instagram This podcast is brought to you by Soul Centered Fitness Never miss an episode: Join my mailing list for weekly coaching, and more. Email your questions and comments to [email protected]
Support MindBody Alchemy by contributing to their tip jar: https://tips.pinecast.com/jar/mindbody-alchemy
Find out more at https://mindbody-alchemy.pinecast.co