S1E20 - You Want Me to Thank WHAT Now?
The episode about weight gain.
1 year ago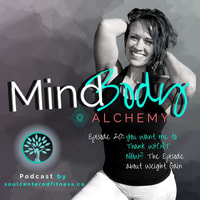 Episode Notes
Find out your diet personality type. Take the quiz!
Bigger booty, thicker thighs, a soft tummy, and all the areas you are pulling and tugging at don't deserve that kind of treatment. In fact, it's time you threw that attitude in the trash, and traded in for some major gratitude. Today is all about body fat, and the weight you've gained from emotional eating. Extra body fat and weight gain might not be comfortable, but it does have a purpose. Once you listen to this episode, you'll be looking at your weight gain through a whole new lens. One that is not only more loving, but filled with gratitude as well. In this episode you'll learn - Why weight gain isn't the end of the world. What your body fat is trying to show you. How your body has been holding down the fort for a long time. And what you need to do, to let it off the hook so you can turn it around. Isn't it time to change the relationship you have with your body?
Don't forget to subscribe, rate, and review the podcast. It helps more than you know!
If you found this episode helpful, share it on Instagram and tag me @soulcenteredfitness.co so I can come and give you some love for sharing. Learn how we can work together 1:1 Learn more about Unstuffed and join the waitlist! Follow Soul Centered Fitness on Instagram This podcast is brought to you by Soul Centered Fitness Never miss an episode: Join my mailing list for weekly coaching, and more. Email your questions and comments to [email protected]
Support MindBody Alchemy by contributing to their tip jar: https://tips.pinecast.com/jar/mindbody-alchemy
Find out more at https://mindbody-alchemy.pinecast.co