S1E33 - Are You Making Decisions or Exceptions? Here's Why It Matters
1 year ago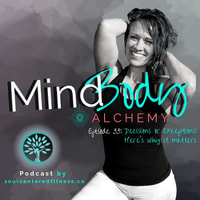 Episode Notes
Find out your diet personality type. Take the quiz!
Just a little note to tell you that you will hear a kitten in this episode for the first minute and a half or so. How you think about the moments that are not aligned with your goals is everything. You can make or break your progress by not knowing the difference between making decisions and making exceptions. In this episode, I break down
what differences to watch for when it comes to making choices
how to know if you're making a decision or exception and why you should care
how you can expect your outcomes to change based on how you choose between the two
how to keep the ball rolling after a night out, or social situation
If you've found yourself spinning your wheels in frustration, you don't want to miss this episode. Whether the goal is weight loss, business, relationships, or life goals; decisions vs exceptions is a game-changer.
Don't forget to subscribe, rate, and review the podcast. It helps more than you know!
If you found this episode helpful, share it on Instagram and tag me @soulcenteredfitness.co so I can come and give you some love for sharing. Learn how we can work together 1:1 Learn more about Unstuffed and join the waitlist! Follow Soul Centered Fitness on Instagram This podcast is brought to you by Soul Centered Fitness Never miss an episode: Join my mailing list for weekly coaching, and more. Email your questions and comments to [email protected]
Find out more at https://mindbody-alchemy.pinecast.co