S1E34 - The Toxic Couple: Self-Sabotage and Impatience
1 year ago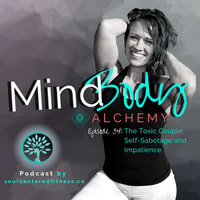 Episode Notes
Find out your diet personality type. Take the quiz!
Self-sabotage and impatience are two peas in a pod. They are the worst couple you've ever invited to dinner, and they've overstayed their welcome long enough. In this episode, you'll learn
How to break free from impatience and stop your self-sabotage
Why a slow journey is far superior to fast results
The hidden reasons you keep sabotaging and how to stop
Why you've never been able to sustain your progress up to this point
And to learn to become the person who is at your goal, before you get there
This is for all of you who have spent years chasing the same goal, seeing success, losing it, and can't figure out what the missing piece is.
Don't forget to subscribe, rate, and review the podcast. It helps more than you know!
If you found this episode helpful, share it on Instagram and tag me @soulcenteredfitness.co so I can come and give you some love for sharing. Learn how we can work together 1:1 Learn more about Unstuffed and join the waitlist! Follow Soul Centered Fitness on Instagram This podcast is brought to you by Soul Centered Fitness Never miss an episode: Join my mailing list for weekly coaching, and more. Email your questions and comments to [email protected]
Support MindBody Alchemy by contributing to their tip jar: https://tips.pinecast.com/jar/mindbody-alchemy
Find out more at https://mindbody-alchemy.pinecast.co