S1E5 - Choosing the Right Diet
These are the questions you must ask yourself, before you choose your next diet.
2 years ago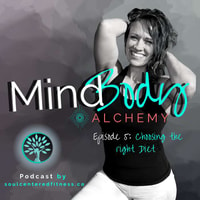 Episode Notes
Find out your diet personality type. Take the quiz!
In this episode, I'll cover the essential questions you must ask, before you choose your next diet.
It's tempting to go on another diet, especially when something triggers that feeling of not good enough. But all to often we end up quitting because our willpower runs out, something in life comes up, and we hit the same obstacles time and time again.
This time, you want to do it right so it sticks.
Putting in the pre-work before you jump in, will yield much better results and you'll finally be able to say, "this is my lifestyle" instead of being on another diet year after year.
Don't forget to subscribe, rate, and review the podcast. It helps more than you know!
If you found this episode helpful, share it on Instagram and tag me @soulcenteredfitness.co so I can come and give you some love for sharing. Learn how we can work together 1:1 Learn more about Unstuffed and join the waitlist! Follow Soul Centered Fitness on Instagram This podcast is brought to you by Soul Centered Fitness Never miss an episode: Join my mailing list for weekly coaching, and more. Email your questions and comments to [email protected]
Support MindBody Alchemy by contributing to their tip jar: https://tips.pinecast.com/jar/mindbody-alchemy