S1E37 - Sweet Little Lies: They're Crushing You
1 year ago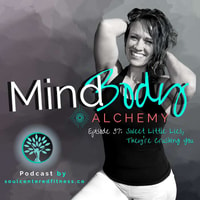 Episode Notes
Find out your diet personality type. Take the quiz!
It seems innocent enough, but it's one of the top ways you are obliterating your chances of success. The scariest part is that it's so habitual, that it's unconscious and forgettable. Read that again. Not only do you barely know you are doing it, but you don't remember doing it. When you aren't present to your choices, and you let the little things slide without acknowledgment, you can't make corrections. This leaves you feeling frustrated and confused because your efforts aren't working. My suggestion? Tell yourself the truth, always. Bring compassion and love, but always from truth. Easier said than done, but always worth the effort. Are you in? Shoot me a message and let me know!
Don't forget to subscribe, rate, and review the podcast. It helps more than you know!
If you found this episode helpful, share it on Instagram and tag me @soulcenteredfitness.co so I can come and give you some love for sharing. Learn how we can work together 1:1 Learn more about Unstuffed and join the waitlist! Follow Soul Centered Fitness on Instagram This podcast is brought to you by Soul Centered Fitness Never miss an episode: Join my mailing list for weekly coaching, and more. Email your questions and comments to [email protected]
Support MindBody Alchemy by contributing to their tip jar: https://tips.pinecast.com/jar/mindbody-alchemy
Find out more at https://mindbody-alchemy.pinecast.co