S2E10 - Is Wearing Makeup a Body Image Issue? Special Guest Laura Kalirai
2 months ago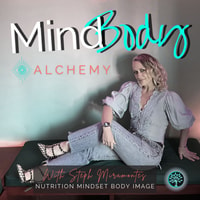 Episode Notes
Find out your diet personality type. Take the quiz!
Join me as I talk to Laura Kalirai, as we discuss the nuance around makeup and body image. Laura and I both have coaching and makeup artistry as a trade, in common and have had a lot of our learning and unlearning in this area. You'll learn:
Why we feel pressure to look a certain way
Awareness of beauty standards and the impact it has on your value
The social conditioning that impacts how you see your face, AKA you've been trained to think you're ugly without modifying your look
The gender binary and makeup has evolved over time
Don't forget to subscribe, rate, and review the podcast. It helps more than you know!
If you found this episode helpful, share it on Instagram and tag me @soulcenteredfitness.co so I can come and give you some love for sharing. Learn how we can work together 1:1 Learn more about Unstuffed and join the waitlist! Follow Soul Centered Fitness on Instagram This podcast is brought to you by Soul Centered Fitness Never miss an episode: Join my mailing list for weekly coaching, and more. Email your questions and comments to [email protected]
Support MindBody Alchemy by contributing to their tip jar: https://tips.pinecast.com/jar/mindbody-alchemy