S1E23 - Diet Failure? It's Not What You Think.
1 year ago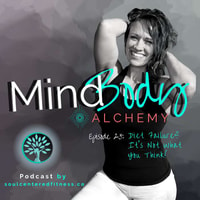 Episode Notes
Find out your diet personality type. Take the quiz!
It's time to stop failing and start getting results. Have you ever wondered why you struggle to get back on track after a binge or emotional eating experience? The answer isn't that you suck at will power. The reality is actually much simpler. In this episode you're going to learn the one big mindset shift you need to make in order to stop failing at any goal, so you can reach it, and move on. These principles apply equally to weight loss, saving money, planting a garden, or any other goal that you've worked hard for, yet can't hold onto. I've learned that I can't fail, and by the of this episode you'll be right there with me. Ready? Dive in.
Don't forget to subscribe, rate, and review the podcast. It helps more than you know!
If you found this episode helpful, share it on Instagram and tag me @soulcenteredfitness.co so I can come and give you some love for sharing. Learn how we can work together 1:1 Learn more about Unstuffed and join the waitlist! Follow Soul Centered Fitness on Instagram This podcast is brought to you by Soul Centered Fitness Never miss an episode: Join my mailing list for weekly coaching, and more. Email your questions and comments to [email protected]
Support MindBody Alchemy by contributing to their tip jar: https://tips.pinecast.com/jar/mindbody-alchemy
Find out more at https://mindbody-alchemy.pinecast.co