S1E14 - Oooooh The One About the Scale! Why bother?
This is such a hot topic with dieters.
1 year ago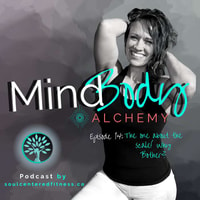 Episode Notes
Find out your diet personality type. Take the quiz!
Do not miss this! This topic had to be addressed, and I'll probably address it again in a future episode.
Does the scale get your blood pressure up? I get it. I've been there! This episode challenges you on your ideas about the scale, and your relationship with it.
I'm calling for a cease fire on your scale weight! This is the episode for you if
The scale makes or breaks your day.
You always start the day by jumping on the scale to determine what to wear.
You think you need to be a certain weight to be healthy.
You're focused on achieving a specific number.
Thanks so much for listening! If you loved this episode, please hit that subscribe button and leave me a rating and review. Don't forget to subscribe, rate, and review the podcast. It helps more than you know!
If you found this episode helpful, share it on Instagram and tag me @soulcenteredfitness.co so I can come and give you some love for sharing. Learn how we can work together 1:1 Learn more about Unstuffed and join the waitlist! Follow Soul Centered Fitness on Instagram This podcast is brought to you by Soul Centered Fitness Never miss an episode: Join my mailing list for weekly coaching, and more. Email your questions and comments to [email protected]
Support MindBody Alchemy by contributing to their tip jar: https://tips.pinecast.com/jar/mindbody-alchemy
Find out more at https://mindbody-alchemy.pinecast.co