S1E7 - Binging Be Gone: Leslie Hooper helps you break the binge eating cycle.
2 years ago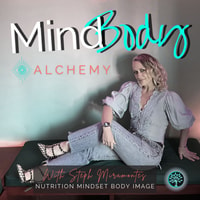 Episode Notes
Find out your diet personality type. Take the quiz!
My guest this week is Leslie Hooper, owner of HooperFit. Leslie has helped countless people stop binging, and guides them out of diet hell and into a peaceful relationship with food using a psychology based approach mixed in with a little tough love. I'm excited to have her on the show to discuss a topic that is touchy, but also very common, especially among those of us with long dieting histories. We are talking about binge eating, and I know this is going to have some incredible takeaways. Be sure to listen to the end to get a mic drop moment from Leslie, so you can stop this for good. Topics covered in this episode
Defining binge eating.
The problem with number chasing and restriction.
How identifying as a binge eater can set you back.
The trap of trying to diet your way out of binge behavior.
Don't forget to subscribe, rate, and review the podcast. It helps more than you know!
If you found this episode helpful, share it on Instagram and tag me @soulcenteredfitness.co so I can come and give you some love for sharing. Learn how we can work together 1:1 Learn more about Unstuffed and join the waitlist! Follow Soul Centered Fitness on Instagram This podcast is brought to you by Soul Centered Fitness Never miss an episode: Join my mailing list for weekly coaching, and more. Email your questions and comments to [email protected]
Support MindBody Alchemy by contributing to their tip jar: https://tips.pinecast.com/jar/mindbody-alchemy