S1E41 - Loving an Ugly Child: Lessons on Acceptance
1 year ago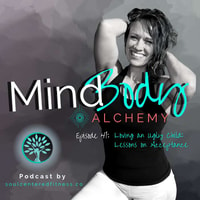 Episode Notes
Find out your diet personality type. Take the quiz!
Does acceptance make you feel like apathy or defeat? If this is how you feel, you're in good company. Many people feel like this and they too are missing out on the potential that self-acceptance offers you in your journey to your goals. In this episode we are talking about how to use self-acceptance to move you forward instead of falling for the quitters narrative. You'll learn about what acceptance really looks like, how it can help you refocus your attention to where you want to be heading. This is your opportunity to learn how to love the ugly child, and finally get out of your own way. Doors open for the next round of group coaching on October 12, and I will be sharing the sign up links with you on Instagram. Mark your calendars! This program is a total makeover, and better than ever. We are going deep and I can't wait to see you transform.****
Don't forget to subscribe, rate, and review the podcast. It helps more than you know!
If you found this episode helpful, share it on Instagram and tag me @soulcenteredfitness.co so I can come and give you some love for sharing. Learn how we can work together 1:1 Learn more about Unstuffed and join the waitlist! Follow Soul Centered Fitness on Instagram This podcast is brought to you by Soul Centered Fitness Never miss an episode: Join my mailing list for weekly coaching, and more. Email your questions and comments to [email protected]
Support MindBody Alchemy by contributing to their tip jar: https://tips.pinecast.com/jar/mindbody-alchemy
Find out more at https://mindbody-alchemy.pinecast.co