S1E18 - Boundaries! Survive The Holiday Table Talk
1 year ago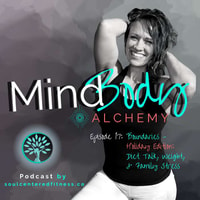 Episode Notes
Find out your diet personality type. Take the quiz!
If you love hanging out with family but dread the conversations about diet, your weight, your size, whether or not you're getting seconds, and if your well-meaning aunt is going to push food you're way; then this is your episode! Boundaries are never easy to establish, but avoiding them is doing you and your relationships a disservice. In this episode you'll learn -
What a boundary is.
How to establish a boundary.
How to stand up for yourself in a loving way.
How to take responsibility for your own environment and well-being.
How boundaries have nothing to do with making others change their behavior, and all about what YOU must do instead.
Mentions - Brooke Castillo (The Life Coach School Podcast) Kara Loewentheil (Un F*ck Your Brain Podcast) Amy E. Smith (The Joy Junkie Podcast) _P.S. If any of my listeners know any of these fabulous females, and can introduce me, I'd love to have them on the show! _
Don't forget to subscribe, rate, and review the podcast. It helps more than you know!
If you found this episode helpful, share it on Instagram and tag me @soulcenteredfitness.co so I can come and give you some love for sharing. Learn how we can work together 1:1 Learn more about Unstuffed and join the waitlist! Follow Soul Centered Fitness on Instagram This podcast is brought to you by Soul Centered Fitness Never miss an episode: Join my mailing list for weekly coaching, and more. Email your questions and comments to [email protected]
Support MindBody Alchemy by contributing to their tip jar: https://tips.pinecast.com/jar/mindbody-alchemy
Find out more at https://mindbody-alchemy.pinecast.co