S1E16 - How to Self-Love, and How NOT to
1 year ago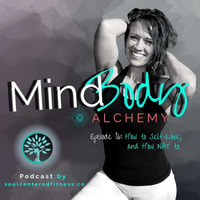 Episode Notes
Find out your diet personality type. Take the quiz!
Everyone wants to talk about self-love like it's a constant, and some magical place that you get to. But the reality is, self-love is a verb. It's something that you do. Not bubble baths and lusting in the mirror over your thighs (though that can certainly help), but the daily decisions that show yourself that you matter. In this episode we are learning -
how to Normalize the celebration of others without comparing and wanting what they have.
how to begin a self-love journey that is authentic instead of the marketable version that leads to more comparison and frustration.
how the content you consume can help or hurt you.
what to focus on instead of your body.
Opening your eyes to what is really driving your insecurities.
how to be more discerning about what thoughts and beliefs you're willing to have about yourself.
Don't forget to subscribe, rate, and review the podcast. It helps more than you know!
If you found this episode helpful, share it on Instagram and tag me @soulcenteredfitness.co so I can come and give you some love for sharing. Learn how we can work together 1:1 Learn more about Unstuffed and join the waitlist! Follow Soul Centered Fitness on Instagram This podcast is brought to you by Soul Centered Fitness Never miss an episode: Join my mailing list for weekly coaching, and more. Email your questions and comments to [email protected]
Support MindBody Alchemy by contributing to their tip jar: https://tips.pinecast.com/jar/mindbody-alchemy
Find out more at https://mindbody-alchemy.pinecast.co