S1E22 - How to Change Any Habit with Ease, Ha!
1 year ago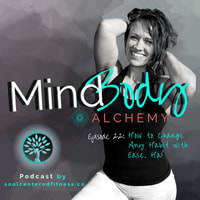 Episode Notes
Find out your diet personality type. Take the quiz!
You might think that change is impossible, but that is only because you haven't learned why you keep screwing yourself over. It's simple, but it isn't easy. That is, until you learn how to break habit change down into 6 simple steps that you can use as anchors to get you back on track when things feel hard. When you're sabotaging your goals, these steps will help you see what needs to be done so that you can get out of your own way, and keep moving forward. Whether your goal is weight loss, reducing the time you spend on social media, waking up earlier, beginning meditation, starting to exercise, or anything else; this system works!
Don't forget to subscribe, rate, and review the podcast. It helps more than you know!
If you found this episode helpful, share it on Instagram and tag me @soulcenteredfitness.co so I can come and give you some love for sharing. Learn how we can work together 1:1 Learn more about Unstuffed and join the waitlist! Follow Soul Centered Fitness on Instagram This podcast is brought to you by Soul Centered Fitness Never miss an episode: Join my mailing list for weekly coaching, and more. Email your questions and comments to [email protected]
Support MindBody Alchemy by contributing to their tip jar: https://tips.pinecast.com/jar/mindbody-alchemy
Find out more at https://mindbody-alchemy.pinecast.co