S1E4 - If Not Dieting, Then What?
How habits determine success
2 years ago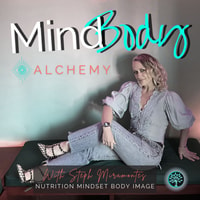 Episode Notes
Find out your diet personality type. Take the quiz!
how effective is dieting, if you still have to do it year after year? You know that dieting is a frustrating endeavor but you don't know what to do instead. It's time to ditch the quick fix makeovers, and start judging successful transformation in a new way. In this episode you'll learn:
The one unsexy, boring thing that will never let you down.
How to make changes that stick.
How to choose what to work on first, when you feel like so many things need change.
What makes for a solid habit, versus a weak one.
Why shortcuts keep costing you long-term results
Why learning another diet trick isn't what you need now, or ever.
How habits shape your success.
Don't forget to subscribe, rate, and review the podcast. It helps more than you know!
If you found this episode helpful, share it on Instagram and tag me @soulcenteredfitness.co so I can come and give you some love for sharing. Learn how we can work together 1:1 Learn more about Unstuffed and join the waitlist! Follow Soul Centered Fitness on Instagram This podcast is brought to you by Soul Centered Fitness Never miss an episode: Join my mailing list for weekly coaching, and more. Email your questions and comments to [email protected]
Support MindBody Alchemy by contributing to their tip jar: https://tips.pinecast.com/jar/mindbody-alchemy