S1E27 - Fat Loss Killer, It's a Little Thing
1 year ago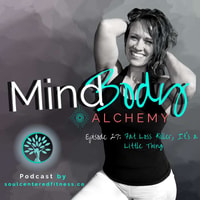 Episode Notes
Find out your diet personality type. Take the quiz!
This episode answers the question, "how do I stop overeating when I've stopped restricting?" because your inner rebel is coming up every time you try to make a change. We are talking about why you feel entitled to indulge in foods that were previously forbidden and how to change that without going back to dieting behaviors.
Don't forget to subscribe, rate, and review the podcast. It helps more than you know!
If you found this episode helpful, share it on Instagram and tag me @soulcenteredfitness.co so I can come and give you some love for sharing. Learn how we can work together 1:1 Learn more about Unstuffed and join the waitlist! Follow Soul Centered Fitness on Instagram This podcast is brought to you by Soul Centered Fitness Never miss an episode: Join my mailing list for weekly coaching, and more. Email your questions and comments to [email protected]
Support MindBody Alchemy by contributing to their tip jar: https://tips.pinecast.com/jar/mindbody-alchemy
Find out more at https://mindbody-alchemy.pinecast.co