S1E12 - Hunger or Appetite Your Key to Fat Loss Success
1 year ago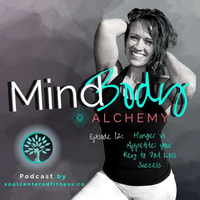 Episode Notes
Find out your diet personality type. Take the quiz!
Hunger is our bodies way of letting us know when, and how much to eat. But there is more at play here than simply saying, eat when you're hungry. If only it were that easy! Learning to work with your hunger is the key to successful and sustainable fat loss. It's a skill that needs to be developed and practiced. In this episode you'll learn
How often you should eat, and how much
The difference between hunger and appetite (they aren't interchangeable).
What hunger really feels like.
How appetite throws a wrench in your plans to eat for your hunger signals.
How to stop resisting hunger.
How you know if your hunger signals are working.
Why you always feel like you're hungry.
How to adapt to a different eating frequency.
How to adapt your plan to accommodate strict eating times that you don't have control over.
The little things that get in your way of honoring your true hunger signals.
How to troubleshoot your hunger, when the habit just isn't working out for you.
Don't forget to subscribe, rate, and review the podcast. It helps more than you know!
If you found this episode helpful, share it on Instagram and tag me @soulcenteredfitness.co so I can come and give you some love for sharing. Learn how we can work together 1:1 Learn more about Unstuffed and join the waitlist! Follow Soul Centered Fitness on Instagram This podcast is brought to you by Soul Centered Fitness Never miss an episode: Join my mailing list for weekly coaching, and more. Email your questions and comments to [email protected]
Support MindBody Alchemy by contributing to their tip jar: https://tips.pinecast.com/jar/mindbody-alchemy
Find out more at https://mindbody-alchemy.pinecast.co