S1E30 - Trigger Food Troubleshoot: It's All in Your Head
1 year ago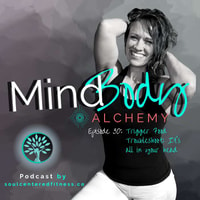 Episode Notes
Find out your diet personality type. Take the quiz!
Trigger foods! If you don't know yet, a trigger food is any food that makes you feel or act in a certain kind of way. If you feel guilty, shameful, out of control, or you blame any food for your weight gain, you have trigger foods.
This is the episode that is going to help you stop feeling guilty and freaking out about the foods that you love, so you can coexist in peace.
When I tell a client to purposely add these foods into their meals, it goes one of two ways. Freak out mode, or a big sigh of relief. Either way, there tends to be a few things that come up, as we work through these foods.
If you're wondering if trigger foods are ever going to feel neutral, when you won't want to eat them anymore, you'll stop self-sabotage already, or you just want to know what a trigger food actually is, this is your episode.
Don't forget to subscribe, rate, and review the podcast. It helps more than you know!
If you found this episode helpful, share it on Instagram and tag me @soulcenteredfitness.co so I can come and give you some love for sharing. Learn how we can work together 1:1 Learn more about Unstuffed and join the waitlist! Follow Soul Centered Fitness on Instagram This podcast is brought to you by Soul Centered Fitness Never miss an episode: Join my mailing list for weekly coaching, and more. Email your questions and comments to [email protected]
Support MindBody Alchemy by contributing to their tip jar: https://tips.pinecast.com/jar/mindbody-alchemy
Find out more at https://mindbody-alchemy.pinecast.co