S1E32 - Thinking on Purpose - A Masterclass
1 year ago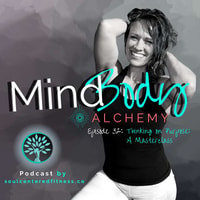 Episode Notes
Find out your diet personality type. Take the quiz!
Yes, I said masterclass! This is a longer episode and it is not the one you want to listen to on your walk or drive. This is the episode to listen to with a pen and paper, so get ready to learn! Part of the reason diets are such a problem is due to their abysmal retention rate. The strategy often sucks, but that isn't the biggest issue. What is missed in every diet out there, is the toolbox that allows you to build resilience.
What if you knew how to change the way you feel?
What if you didn't allow a bad day to derail your progress?
What if a mistake wasn't the beginning of the end?
What if you didn't have to keep looking for new diets, and you were able to problem solve quickly?
How would it feel to start using your brain in a way that was purposeful, so you didn't have the urge to give up or start over? You can succeed at reaching your goals, without the fear of losing everything the next time you come upon an obstacle, go on vacation, or have a crappy day.
Don't forget to subscribe, rate, and review the podcast. It helps more than you know!
If you found this episode helpful, share it on Instagram and tag me @soulcenteredfitness.co so I can come and give you some love for sharing. Learn how we can work together 1:1 Learn more about Unstuffed and join the waitlist! Follow Soul Centered Fitness on Instagram This podcast is brought to you by Soul Centered Fitness Never miss an episode: Join my mailing list for weekly coaching, and more. Email your questions and comments to [email protected]
Find out more at https://mindbody-alchemy.pinecast.co