S1E13 - Don't Get it Twisted; Weight Loss is a Hobby
At some point, it's not about your health.
1 year ago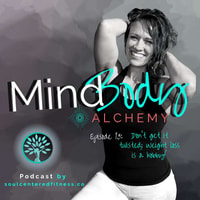 Episode Notes
Find out your diet personality type. Take the quiz!
I've seen people in bodies that would be considered the perfect specimen to represent "health" and they were suffering physically and mentally trying to hold onto a body that felt like a full time job. I've heard it a thousand times. I want to lose weight to be healthy! But the reality is a little bit different. In this episode I break down:
Why it's important to be honest about your motivation to lose weight.
Why health is not a good enough reason for most people.
The mindset shift you NEED to have in order to enjoy the process more, and make progress long term.
How to avoid fitness burn out.
What the science really says about weight loss and health
Don't forget to subscribe, rate, and review the podcast. It helps more than you know!
If you found this episode helpful, share it on Instagram and tag me @soulcenteredfitness.co so I can come and give you some love for sharing. Learn how we can work together 1:1 Learn more about Unstuffed and join the waitlist! Follow Soul Centered Fitness on Instagram This podcast is brought to you by Soul Centered Fitness Never miss an episode: Join my mailing list for weekly coaching, and more. Email your questions and comments to [email protected]
Support MindBody Alchemy by contributing to their tip jar: https://tips.pinecast.com/jar/mindbody-alchemy
Find out more at https://mindbody-alchemy.pinecast.co