S1E39 - Is Pleasure Killing Your Commitment?
1 year ago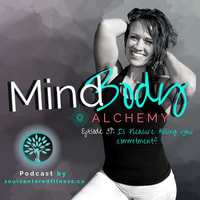 Episode Notes
Find out your diet personality type. Take the quiz!
You will always hear me go to bat for finding the most pleasurable way to reach your goals, and that it is the secret sauce to consistency. So why then, after seeking pleasure are you still struggling to get where you want to go? The answer lies in your binary language. Pain, frustration, and desperation will make it easy to fall into the trap of all-or-nothing thinking. It's useful at the beginning of any goal, as it helps you stay committed to doing all the things. What eventually happens though, is your all-or-nothing thinking gets mixed in with your old habitual thought and behavior patterns. This leaves you feeling entitled to feeling differently about doing the same old thing. That isn't how it works. Pleasure is a bigger experience than just finding the path of least resistance. Finding the nuance and committing to a bigger picture of pleasure will help you stay in the long game and get you to your goals.
Don't forget to subscribe, rate, and review the podcast. It helps more than you know!
If you found this episode helpful, share it on Instagram and tag me @soulcenteredfitness.co so I can come and give you some love for sharing. Learn how we can work together 1:1 Learn more about Unstuffed and join the waitlist! Follow Soul Centered Fitness on Instagram This podcast is brought to you by Soul Centered Fitness Never miss an episode: Join my mailing list for weekly coaching, and more. Email your questions and comments to [email protected]
Support MindBody Alchemy by contributing to their tip jar: https://tips.pinecast.com/jar/mindbody-alchemy
Find out more at https://mindbody-alchemy.pinecast.co