S2E2 - What Body Comparison Really Is
4 months ago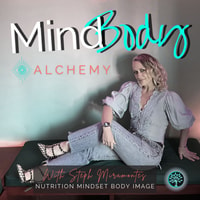 Episode Notes
Find out your diet personality type. Take the quiz!
Comparison feels like crap, but it may not be what you think it is. When you compare your body to someone else's, what are you REALLY thinking will be different? Social and other forms of media, social conditioning, our family of origin, and our culture all contribute to beauty standards. All of them are unattainable in some way or another because it's subjective. While there are very real consequences for the most marginalized among us due to these unrealistic beauty standards and compassion for oneself won't change that, it's important to offer it to yourself and others anyway. Part of having a healthy body image is being honest with yourself about why you have the opinions you have about your body and the bodies around you. You can change your thoughts and opinions in a more purposeful way if you understand more about their origin. Once you understand why humans compare, what we are really thinking when we compare, and how to use that comparison to grow in your own journey, you'll stop feeling so terrible about yourself when comparison strikes.
Don't forget to subscribe, rate, and review the podcast. It helps more than you know!
If you found this episode helpful, share it on Instagram and tag me @soulcenteredfitness.co so I can come and give you some love for sharing. Learn how we can work together 1:1 Learn more about Unstuffed and join the waitlist! Follow Soul Centered Fitness on Instagram This podcast is brought to you by Soul Centered Fitness Never miss an episode: Join my mailing list for weekly coaching, and more. Email your questions and comments to [email protected]