S2E11 - Habits for Weight Loss
2 months ago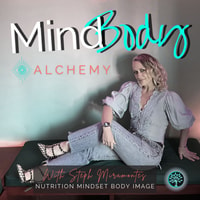 Episode Notes
Find out your diet personality type. Take the quiz!
This series of episodes have taught you many of the reasons that weight loss is SO D*MN HARD, and how to overcome your obstacles. Today I want to teach you about the HOW. In this episode, you'll learn which habits I teach my clients in order to achieve weight loss success and why they are the ones you want to master too!
Don't forget to subscribe, rate, and review the podcast. It helps more than you know!
If you found this episode helpful, share it on Instagram and tag me @soulcenteredfitness.co so I can come and give you some love for sharing. Learn how we can work together 1:1 Learn more about Unstuffed and join the waitlist! Follow Soul Centered Fitness on Instagram This podcast is brought to you by Soul Centered Fitness Never miss an episode: Join my mailing list for weekly coaching, and more. Email your questions and comments to [email protected]
Support MindBody Alchemy by contributing to their tip jar: https://tips.pinecast.com/jar/mindbody-alchemy
This podcast is powered by Pinecast.