S1E8 - Client Interview Amanda Nies-Berger
2 years ago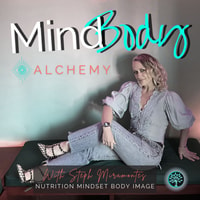 Episode Notes
Find out your diet personality type. Take the quiz!
We had some audio issues on zoom, but this podcast was too good not to share. Please forgive the hiccups, and enjoy! I am so excited for today's show because I have one of my favorite humans joining me. My client Amanda has worked with me for a while now. We became fast friends, and I can't wait for you to get to know her. Amanda has had quite a transformation, and is continuing along her journey. You can check out her pictures on Instagram. But more impressive is her mental transformation. She has come a long way, in spite of her many obstacles that would have most people quitting. What she has to share is what transformation really looks like, and so we hit the record button to share it with you. In this episode Amanda and I discuss the ins and outs of dieting, including:
Why weight watchers and other diet approaches didn't work.
Fears and challenges around  building self-trust.
How self-care went from impossible to essential.
The dangers of diet culture, even showing up at your doctors office, and so much more.
Don't forget to subscribe, rate, and review the podcast. It helps more than you know!
If you found this episode helpful, share it on Instagram and tag me @soulcenteredfitness.co so I can come and give you some love for sharing. Learn how we can work together 1:1 Learn more about Unstuffed and join the waitlist! Follow Soul Centered Fitness on Instagram This podcast is brought to you by Soul Centered Fitness Never miss an episode: Join my mailing list for weekly coaching, and more. Email your questions and comments to [email protected]
Support MindBody Alchemy by contributing to their tip jar: https://tips.pinecast.com/jar/mindbody-alchemy
Find out more at https://mindbody-alchemy.pinecast.co