S1E24 - What Kind of Eater are You?
1 year ago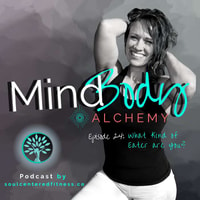 Episode Notes
Find out your diet personality type. Take the quiz!
Today's podcast is all about self inquiry, and discovering what kind of eater you are, and then deciding what kind of eater you want to be.
How do you interact with food?
Are you secret eating?
Is binge eating and emotional eating controlling your life?
Do you feel free to go on dates, participate in social events, and eat in front of others?
This episode helps you ask the right questions, and gives you a powerful tool to start transforming this right away. Freedom is right around the corner.
Don't forget to subscribe, rate, and review the podcast. It helps more than you know!
If you found this episode helpful, share it on Instagram and tag me @soulcenteredfitness.co so I can come and give you some love for sharing. Learn how we can work together 1:1 Learn more about Unstuffed and join the waitlist! Follow Soul Centered Fitness on Instagram This podcast is brought to you by Soul Centered Fitness Never miss an episode: Join my mailing list for weekly coaching, and more. Email your questions and comments to [email protected]
Support MindBody Alchemy by contributing to their tip jar: https://tips.pinecast.com/jar/mindbody-alchemy
Find out more at https://mindbody-alchemy.pinecast.co