S1E26 - The One About Self-Worth and Self-Esteem
1 year ago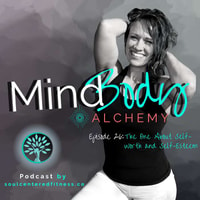 Episode Notes
Find out your diet personality type. Take the quiz!
Where does your self-worth come from? Is it coming from your work? Your body? Your accomplishments and accolades? What if all of that was stripped away, would you still feel worthy? Do you put yourself out there, share your gifts with the world, and truly believe there is enough awesome to go around, or do you tuck it away because you fear that you will somehow run out if you share it? This episode breaks down the ins and outs of self-worth and self-esteem, how to see where your opportunities to improve are, how to move past some of the blocks that prevent you from showing up as your best, and why you deserve everything the world has to offer you.
Don't forget to subscribe, rate, and review the podcast. It helps more than you know!
If you found this episode helpful, share it on Instagram and tag me @soulcenteredfitness.co so I can come and give you some love for sharing. Learn how we can work together 1:1 Learn more about Unstuffed and join the waitlist! Follow Soul Centered Fitness on Instagram This podcast is brought to you by Soul Centered Fitness Never miss an episode: Join my mailing list for weekly coaching, and more. Email your questions and comments to [email protected]
Support MindBody Alchemy by contributing to their tip jar: https://tips.pinecast.com/jar/mindbody-alchemy
Find out more at https://mindbody-alchemy.pinecast.co