S1E15 - Physique Goals, Sacrifice, & Managing Expectations
1 year ago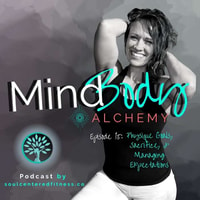 Episode Notes
Find out your diet personality type. Take the quiz!
If you feel like you're always just missing the mark when you start a new diet, and the yo-yo cycle is leaving you frustrated, be sure to tune in to this episode. You'll learn -
Why you've struggled so much in the past.
Why suffering and perfection will only keep you stuck.
How to break out of yo-yo dieting for good.
What managing your expectations really looks like.
How ditching the timeline will keep you from getting stuck.
Using self-compassion to combat your perfectionist mindset.
Don't forget to subscribe, rate, and review the podcast. It helps more than you know!
If you found this episode helpful, share it on Instagram and tag me @soulcenteredfitness.co so I can come and give you some love for sharing. Learn how we can work together 1:1 Learn more about Unstuffed and join the waitlist! Follow Soul Centered Fitness on Instagram This podcast is brought to you by Soul Centered Fitness Never miss an episode: Join my mailing list for weekly coaching, and more. Email your questions and comments to [email protected]
Support MindBody Alchemy by contributing to their tip jar: https://tips.pinecast.com/jar/mindbody-alchemy
Find out more at https://mindbody-alchemy.pinecast.co