S1E1 - Why You're Still Overeating
2 years ago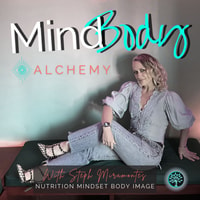 Episode Notes
Find out your diet personality type. Take the quiz!
Can't stop overeating? Before you blame it on a lack of willpower, let's chat. This episode dives into the most common reasons you overeat, and covers everything from snacking to fasting, and everything in between. Topics in this episode cover:
The obvious, and the sneaky ways that overeating is showing up.
How dieting & deprivation sets you up to fail.
The habit you need to break if you want to stop this for good.
Why tricking your body is not going to happen.
How pleasure pays off big time.
To snack or not to snack?
And don't worry, I won't leave you without some practical steps to start turning this around right away.
Don't forget to subscribe, rate, and review the podcast. It helps more than you know!
If you found this episode helpful, share it on Instagram and tag me @soulcenteredfitness.co so I can come and give you some love for sharing. Learn how we can work together 1:1 Learn more about Unstuffed and join the waitlist! Follow Soul Centered Fitness on Instagram This podcast is brought to you by Soul Centered Fitness Never miss an episode: Join my mailing list for weekly coaching, and more. Email your questions and comments to [email protected]
Support MindBody Alchemy by contributing to their tip jar: https://tips.pinecast.com/jar/mindbody-alchemy