S1E21 - Body Love: It Matters w/ Guest Stephanie Curry
1 year ago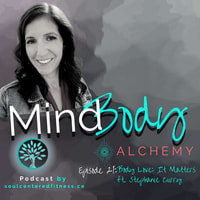 Episode Notes
Find out your diet personality type. Take the quiz!
This is the episode about waving the white flag when it comes to the battle with your body. Losing weight is a worthy goal, but if you still pick and pull at the parts you don't like, what's the point? Achieving a smaller body isn't the key to having a positive body image. Being willing to respect and accept the skin your in will make your weight loss transformation a more pleasurable process, and you might actually find that it was body respect that you were craving all along. This episode features special guest Stephanie Curry as we discuss what it looks like to work with me on Body Image. She shares her story, and how doing this work was a surprising and integral part of her transformation. This is the episode you need if you're ready to see your body through kinder eyes, improve the relationship you have with yourself, and are ready to ditch diet suffering in exchange for a permanent solution to loving the skin you're in.
Don't forget to subscribe, rate, and review the podcast. It helps more than you know!
If you found this episode helpful, share it on Instagram and tag me @soulcenteredfitness.co so I can come and give you some love for sharing. Learn how we can work together 1:1 Learn more about Unstuffed and join the waitlist! Follow Soul Centered Fitness on Instagram This podcast is brought to you by Soul Centered Fitness Never miss an episode: Join my mailing list for weekly coaching, and more. Email your questions and comments to [email protected]
Support MindBody Alchemy by contributing to their tip jar: https://tips.pinecast.com/jar/mindbody-alchemy
Find out more at https://mindbody-alchemy.pinecast.co