S1E38 - Overwhelm - Too Much Information and Feeling Broken
1 year ago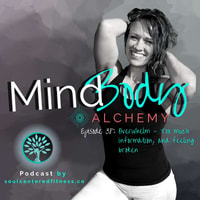 Episode Notes
Find out your diet personality type. Take the quiz!
The story goes something like this. Get SUPER motivated Set a goal Sign up for a program, or make a plan Get started with a bang! You're ready While you're riding that high, you start consuming all the related information from social media posts, books, articles, podcasts, and other experts At first, it feels very validating because finally someone gets what you are going through and they have answers. Yipee! But after a while, the enthusiasm dies down and you start to feel the familiar slow quit creep up. Why does this happen? Overwhelm. An innocent habit of consuming information has left you feeling broken, and overwhelmed by all the things you have to work on. You may even start questioning whether or not the path you chose is the right one. All of the sudden it feels too big. It's too much. You're uncertain. Since it feels insurmountable, you lose that early surge of belief in yourself and you start letting things slide. Why bother anyway? Survival mode kicks in and before you know it, you've gone back to the old comforts of your old habits with a fresh dose of self-loathing to tend to. But it doesn't have to be that way, and this episode is going to teach you how to stay committed to your goal in the midst of all the overwhelming information that is out there. Are you ready to get unstuck and keep your cool? This is the episode you didn't know you desperately needed.****
Don't forget to subscribe, rate, and review the podcast. It helps more than you know!
If you found this episode helpful, share it on Instagram and tag me @soulcenteredfitness.co so I can come and give you some love for sharing. Learn how we can work together 1:1 Learn more about Unstuffed and join the waitlist! Follow Soul Centered Fitness on Instagram This podcast is brought to you by Soul Centered Fitness Never miss an episode: Join my mailing list for weekly coaching, and more. Email your questions and comments to [email protected]
Support MindBody Alchemy by contributing to their tip jar: https://tips.pinecast.com/jar/mindbody-alchemy
Find out more at https://mindbody-alchemy.pinecast.co