S1E10 - Box Checking Your Way To Weightloss
How to go from doing, to being, to success!
2 years ago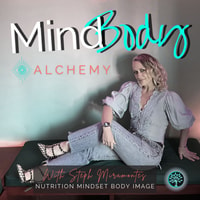 Episode Notes
Find out your diet personality type. Take the quiz!
If you hang around me long enough, you're going to hear me say something along the lines of, you can't just will yourself to transformation. Instead of thinking about what you have to do, you must think about who you have to become. I firmly believe that permanent change requires this. But if you've never been where you want to be, then it might be hard to imagine what that looks like, let alone actually put it into practice. In this episode you'll learn -
The one trick you need to learn to cut through the diet industry noise.
How to build skills instead of going through the motions forever.
How to hack your mindset for success.
What you're really missing, and how it holds you back.
Don't forget to subscribe, rate, and review the podcast. It helps more than you know!
If you found this episode helpful, share it on Instagram and tag me @soulcenteredfitness.co so I can come and give you some love for sharing. Learn how we can work together 1:1 Learn more about Unstuffed and join the waitlist! Follow Soul Centered Fitness on Instagram This podcast is brought to you by Soul Centered Fitness Never miss an episode: Join my mailing list for weekly coaching, and more. Email your questions and comments to [email protected]
Support MindBody Alchemy by contributing to their tip jar: https://tips.pinecast.com/jar/mindbody-alchemy
Find out more at https://mindbody-alchemy.pinecast.co